Positive Psychotherapy (PPT) (since 1968) is the name of the method of the psychotherapeutic modality developed by Nossrat Peseschkian and co-workers. Prof. Peseschkian, MD, (1933–2010) was a specialist in neurology, psychiatry, psychotherapy and psychotherapeutic medicine.
Positive psychotherapy is a method in the field of humanistic and psychodynamic psychotherapy and is based on a positive image of man, which correlates with a salutogenetic, resource-oriented, humanistic and conflict-centered approach. It is accredited by several institutions (e.g. State Medical Chamber of Hessen, Germany, European Association for Psychotherapy EAP; World Council for Psychotherapy WCP, International Federation of Psychotherapy IFP and other statutory institutions).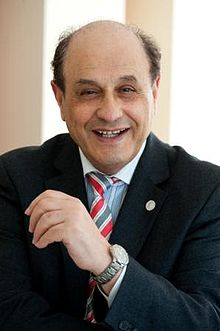 Today positive psychotherapy has been established in more than 33 countries with approximately 30 independent centres and institutions. In 1971, the Wiesbaden Postgraduate Training Institute for Psychotherapy and Family Therapy (WIPF) was established as a postgraduate training institution for professional studies for physicians, psychologists and pedagogues in the field of PP. WIPF is also the forerunner of Wiesbaden Academy for Psychotherapy (WIAP), which is today one of the leading state-recognized institutions of postgraduate psychotherapy training in Germany. Since 1974, more than 38,000 physicians and psychologists have been trained in Germany with this method, and since the late 1980s also several thousand colleagues in Eastern European and Asian countries.

Positive psychotherapy is represented worldwide by the World Association of Positive Psychotherapy (WAPP). It has so far organized the four World Congresses for Positive Psychotherapy – in St. Petersburg, Russia (1997), in Wiesbaden, Germany (2000), in Varna, Bulgaria (2003), in Lekosia, Cyprus (2007). The fifth World Congress will take place in October 2010 in Istanbul, Turkey. Standardized training programmes (in form of Basic and Master Courses) are taking place worldwide (e.g. in Bolivia, Bulgaria, China, Cyprus, Ethiopia, Kosovo, Romania, Russia, Switzerland, Turkey, Ukraine).

In 1997, a quality assurance and effectiveness study was undertaken in Germany. The results show the high effectivity of this short-term method. The study was awarded with the Richard-Merten-Prize. In 2006, Nossrat Peseschkian, founder of Positive Psychotherapy, was awarded the German order of merit. This order is the highest recognition of the Federal Republic of Germany for distinguished services and achievements in social-economical, political and spiritual fields as well as their particular services for the Republic, for example social charity and humanitarian help.

PPT is based on the conviction that all men are good by nature and that they have two basic capabilities: the capability to love and the capability to know. Conflicts are interpreted as challenges to the development of these capabilities. From this starting point, a lot of innovative concepts and techniques have been developed for the therapeutic process. Two examples:

The Balance Model: Human life takes places and can be described in four modes: body/senses, achievement, contact, and future/fantasy. In conflicts, every person develops a preference for dealing with the problems that arise. Example: The father reacts by escaping to his work (achievement); the mother reacts by withdrawing, and hence by avoiding social contact (contact); the child reacts with physical complaints (body).

Stories, wisdoms, transcultural examples: Stories, wisdoms and examples from other cultures are used as respectful mediators between therapist and patient, encouragement for using fantasy in conflict resolution, and mnemonic aid for future situations. Example: an oriental who comes home relaxes right in the center of noise and chatter of all his family members and neighbours; whereas a westerner rather seeks to relax alone and in a quiet environment.

PPT has proven to be highly effective in awarded clinical studies. Beyond the therapeutic setting, PPT provides an innovative approach to social and political topics of conflict in the age of globalization – such as education, prejudices, materialism, fundamentalism, migration and world-wide development. On an international level, it is represented by the International Center for Positive Psychotherapy (ICPP), constituted as association of institutional and individual members, and the International Academy of Positive and Transcultural Psychotherapy (IAPP) – Peseschkian foundation. Its main training institute, Wiesbaden Academy for Psychotherapy (WIAP), is one of the largest institutions for state-recognized postgraduate training in psychotherapy. Prof. Nossrat Peseschkian, the founder of PPT, has been awarded the order of merit of the federal republic of Germany in 2006.

Introductory Reading: Peseschkian, N. (1996), Oriental Stories as Tools in Psychotherapy.

Further Information: www.positum.org